YoPass is a security feature with the key idea of it to make it a lot harder for anyone to access your YoWorld account. It was announced by Greg Thomson on June 1st 2014, and officially introduced to the app stores on August 1st, 2014.
The feature is completely optional to the player. Its free and works on iPhone, iPod Touch, iPad and compatible Android devices. The app is available to download for free on Google Play and the App Store.
Function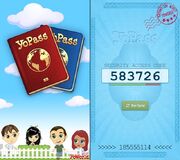 YoPass is the first YoWorld feature that works on the players' mobile phones or tablets. It is also the first feature to be released as an App. 
The player will download the YoPass app. The app produces a six-digit code that changes every 30 seconds. After downloading YoPass, you will be asked to log in and enable YoPass. If you choose to enable it, whenever you log in to YoWorld on your computer, you will be asked to enter the six-digit code that appears on your phone/tablet. 
There is also an option to remember your computer for a month, so you don't have to enter it every time you want to log in or refresh. This means only your computer and your internet connection can log in, otherwise, you would need to enter the code again. This feature almost eliminates any chance of somebody logging onto your YoWorld account, even if they trick you into giving them your Facebook details. 
Community content is available under
CC-BY-SA
unless otherwise noted.