| | |
| --- | --- |
| | This page has been locked from editing to prevent vandalism. If you have information to add, feel free to talk on the discussion page of this article or contact an admin. |
| | |
| --- | --- |
| | Please note that any website, software or app promising free YoCoins, YoCash or items, often pretended to be promotions run by Big Viking Games, is a phishing scam. Big Viking Games will never ask for your account credentials. For more information, you can visit the "YoWorld Account Security Megathread!" on the YoWorld Forums (forums.yoworld.com). |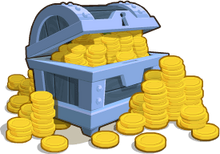 YoCoins are a form of virtual currency that players use in the game to purchase items, furniture, and many other collectibles. YoCoins were the initial currency when YoWorld was initially released. Another form of virtual currency, YoCash, was introduced later on. However, YoCash was not meant to replace YoCoins. YoCash is used to purchase premium items.
Appearance
YoCoins are presented as small golden coins with a "Y" carved into them. It is presumed that the side with the Y on it is the head (front) of the coin, it is not known if the tail (back) looks any different. Originally, YoCoins were simply coins with dollar symbols on them, it was not until later that Y became a part of their face designs.
Gaining YoCoins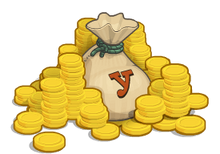 When it comes to earning YoCoins, it tends to be easier than trying to earn YoCash within the game.
Purchasing
One can add more YoCoins to their accounts by clicking on the "Add YoCash" tab and selecting the "YoCoins" sub-tag.
Special YoCoin and YoCash deals and packages are regularly offered within the game for players to take advantage of.
Note that any other website or person offering virtual currency for sale is always a scam.
Free/Earning
Collect your Daily Log-In Bonus.
Clocking in at the Widgets Factory.
Working and completing Jobs.
Visit your neighbors every day, and collect special chests or doing coin-runs.
Race and win races at the Speedway.
Participate in Game Events such as Pageants, Eliminations, and 4 Corners.
Play and win YoFish!
Selling Items, hosting sales, trading with other players. 
Taking Selfies. 
Levelling up your rooms and gaining free YoCoin bonuses. 
Beating other players in Rock-Paper-Scissors or Tic-Tac-Toe. 
Collecting and unlocking daily Coin Chest free gifts from your friends and neighbors. 
Community content is available under
CC-BY-SA
unless otherwise noted.