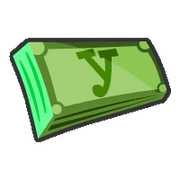 YoCash Dealers, are YoWorlders that sell or deal YoCash. The business of dealing YoCash actually started early on in-game and dates back to the year 2009, the year YoCash was first introduced into the game. Today, players are able to trade YoCash with other players, unlike prior to 2015, when only YoCoins could be used in trading transactions among players. This form of business is often done for multiple purposes, mainly as a way for players to obtain YoCash (who would not be able to purchase it with real money otherwise), or for profit to be made by the YoCash dealer.
Typically, YoCash is dealt at a rate, which tends to vary from time to time in-game based on demand, and the current state of the YoEconomy. An accurate list of YoCash rates from the past to present is available on this page.
YoCash Rates
The amount of YoCoins you pay per YoCash really depends on the YoCash Dealer you are purchasing YoCash from, many players refrain from purchasing YoCash from dealers who go by higher YoCash rates.
200-500 YoCoins per YoCash (2008 - 2009)
5,000-6,000 YoCoins per YoCash (2010 - early 2012)
10,000-12,000 YoCoins per YoCash (mid 2012 - early 2013)
15,000-25,000 YoCoins per YoCash (late 2013)
25,000-50,000 YoCoins per YoCash (early 2014)
22,000-27,000 YoCoins per YoCash (early 2017)
Community content is available under
CC-BY-SA
unless otherwise noted.