| | |
| --- | --- |
| | This page has been locked from editing to prevent vandalism. If you have information to add, feel free to talk on the discussion page of this article or contact an admin. |
| | |
| --- | --- |
| | Please note that any website, software or app promising free YoCoins, YoCash or items, often pretended to be promotions run by Big Viking Games, is a phishing scam. Big Viking Games will never ask for your account credentials. For more information, you can visit the "YoWorld Account Security Megathread!" on the YoWorld Forums (forums.yoworld.com). |
YoCash is a form of virtual currency in the game. YoCash is used to purchase premium items, like cats and dogs. Unlike YoCoins, YoCash is harder to obtain, one of the most common ways to obtain YoCash is by purchasing it using real-world currencies. It can also be won during special events. It can be traded as well. It is considered a more exclusive currency when compared to YoCoins. YoCash was initially introduced as a new currency in the game on January 16, 2009.
Various items in YoWorld cost YoCash, such as chairs, beds, toilets and other furniture items. Certain clothing accessories such as hats or handhelds are also YoCash exclusive. By 2013 more and more accessories began to be sold for YoCoins, such as gloves, necklaces, and rings, even some chairs, and small stools are available for YoCoins.
Appearance
YoCash is presented in the form of green colored rectangle bills. At the center of the bill, there is a Y printed on it. The edges of the bill also have a modest design. For the most part, through the game's history, YoCash has kept a pretty consistent design.
Gaining YoCash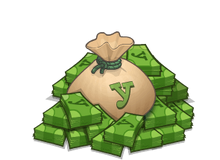 Purchasing
The Buy More YoCash tab allows you to purchase YoCash using either a credit card or a PayPal account.
Special Discounts or Offers are regularly available to players in-game, giving players the chances to buy spacial YoCash packages and deals.
Note that any other website or person offering virtual currency for sale is always a scam.
Free/Earning
Special Events can also hold chances for you to win Yocash, such as decorating contests, or outfit design contest.
A small YoCash incentive is offered for emailing evidence of exploits to BVG's YW Bug Bounty email. 
Leveling Up now provides free YoCash to players approximately every five levels (See Levels). 
Trading is another way to earn YoCash, especially through YoCash Dealers at the going rate. One can also sell items for YoCash, both in sales at in the Auction House.  
Gambling with YoCash instead of YoCoins at the Lucky Casino also gives you a chance to win a little more YoCash. Please be advised that gambling can become addicting. 
YoCash Dealers
YoCash Dealers are players with large amounts of YoCash, they will buy you the YoCash item you want, then trade it to you for coins. They charge on a per YoCash rate.
Special Offers
Occasionally there are special YoCash offers where you can purchase more YoCash for real-world currency than on the "Buy More Yocash" tab. These offers often have items and YoCoins with them. These special offers are limited in time.
Community content is available under
CC-BY-SA
unless otherwise noted.