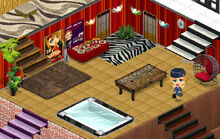 Passionate YoVille player since January 2009. Been around for a long time and now want to share what I know to help other players to learn about the game. I hope you find my pages informative and helpful.
I used to be an admin on the Wiki. I adopted this wiki in January 2013 to keep it up-to-date and do lots of work on it! As admin my duties included: Keeping the layout of the wiki updated, deleting any pages that aren't needed, introducing new MediaWiki features to the forum, and building a community on the wiki. I left my post later that year due to real life commitments, but left it in the hands of Hugh G Reaction, Anthony Hiram and Wingman, all of whom have done a brilliant job in maintaining and improving it!
Occassionally I come back to do a few edits. The wiki will always be here and will continue to grow and attract more people, especially as we leave YoVille and enter YoWorld!
Have fun exploring and adding to the Wiki!
- Jack
My favorite pages
Community content is available under
CC-BY-SA
unless otherwise noted.