Under World was an inaccessible area that could only be viewed from the map back in 2008. The area was never made accessible, however, access to it was planned, yet never implemented into the game.
On the map, the Under World appeared to be a long (possibly endless) road that spiraled into the ground. There was a red sign right next to it that read 'Under World'. Across from that sign, stood a smaller green sign, which read 'YoVille Fashion Store', with an arrow pointing in that direction. This green sign, however, could not be read from the map and could only be read upon visiting the area.
The road was also surrounded by a forest of trees and was located in front of The Bank. Presumably, the exterior of this location may have been accessed from the Clothing Store and The Bank, however, there is no evidence that one could actually enter the location.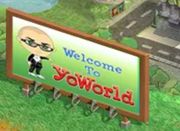 This cryptic area was removed later on and replaced by the giant billboard on the map.
A few fan-fictions state that the billboard was build right on top of the entrance to the Under World, to stop any lost players from wandering in. Since its replacement, the area has been forgotten by many. Today, little information exists about this location.
Gallery
| | |
| --- | --- |
| | The authenticity of the two images in this section cannot be guaranteed. It is believed that the images may constitute a hoax. Please carefully verify any reliable sources used to support the authenticity of the images, and add reliable sources for any uncited claims. |
In the gallery below, two images are present depicting what appears to be the exterior region of this location. It is currently unknown how the players in the images were able to access this region of the map, but there are no jump arrows present in either screenshot, meaning that perhaps they had not gotten there through normal means. The first screenshot on the left was taken in the month of April (year currently unknown), evidently from a YouTube video. The second one on the right was evidently a photograph of a video taken of the player's screen, on May 21, 2008.
Community content is available under
CC-BY-SA
unless otherwise noted.