Trading is a feature that has been available to players since the very beginning. The feature allows for direct player-to-player trading. Which could involve anything from item swapping, fund transferring and exchanging virtual goods for virtual currencies like YoCoins and YoCash. The current iteration of this feature was released on October 1, 2014, it was project-named "Trading 2.0".
Function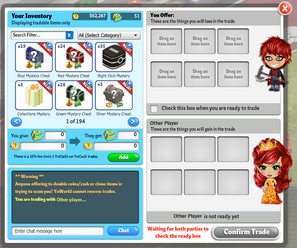 Upon receiving a trade request, one get's a popup stating the terms and conditions that come with using the feature. One has to accept these terms always before a trade commences. In the trade window, images of both avatars appear on the right side of the window. Their names are also visible.
There is a chat window where both players can chat in while in-trade. There are bars where one can input the amount of YoCoins or YoCash a player wants to transfer. There is a commission when trading with YoCash, this commission does not apply to YoCoins. There is a search bar, as well as a small window displaying your inventory, six items at a time. One can search for an item in the search bar for quicker service.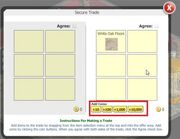 Community content is available under
CC-BY-SA
unless otherwise noted.