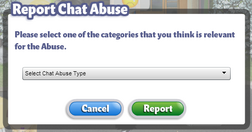 Reporting was first introduced not long after the games accidental release back on May 8, 2008. The feature allows users to submit reports of anything that may break YoWorld's Terms of Service.
Users are allowed to report individual players, events, and forum threads and posts on the YoWorld Forums. Items like Whiteboards, Paintboards, Brass Frames, and other items of similar functions can also be reported, if believed to be breaking any rules.
After a report is submitted, it goes to the YoWorld Team for review, whereupon a decision will be made regarding what steps to take to solve the issue. Emailing is also another effective way to report an issue.
Resources
Below you will find some resources that may serve of some help.