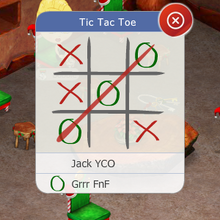 Play A Game is a feature that was first introduced in 2008. It allows players to play one of two mini-games with other users. These mini-games are tic-tac-toe and rock, papers, scissors. Beating another player at one of these games guarantees the winner some YoCoins.
Function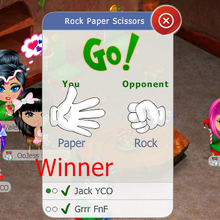 The rules of each game are pretty simple. To win a round of tic-tac-toe, one has to get three in a row. If the round ends up being a tie, the winnings are divided between the two players.
Standard rules also apply while playing rock, paper, scissors.
In order to send a game request to another player, one simply clicks on their avatar and selects "Play A Game" from the drop-down menu.
Maxing
Maxing is an old YoWorldian tradition where players allowed one another to win rounds of the games and earn the YoCoins for it until they are all maxed out on winable mini-game earnings for the rest of the day. The favor would then be returned.
These were popularly performed at player-hosted events, which many referred to as Maxing Parties.
Community content is available under
CC-BY-SA
unless otherwise noted.