| | |
| --- | --- |
| | Please note that any website, software or YouTube video promising generated art and where you need to send in source code or user credentials, is a phishing scam. Do not give out source code or user credentials. For more information about account security, you can visit the "YoWorld Account Security Megathread!" on the YoWorld Forums (forums.yoworld.com). |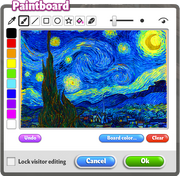 Paintboards were released initially on June 30, 2015. They were also known as the 'Whiteboards of the Future'. Unlike the original whiteboards, these boards have a larger span of qualities.
They feature borderless edges, more tools, and have an unlimited selection of colours including transparency.
Tools
Brush tool
Line tool
Rectangle tool
Circle tool
Star tool
Fill tool
Eraser
Brush size
Color picker
Undo/redo
Sizes
Third-party Software
Third-party software has been used by players that allow images to be automatically generated on the paintboard using more colours than available.
This has led to the creation of many paintboards with images that have not been hand-drawn. Some players profit from this by selling the whiteboards they have created to other players.
Using third-party services is technically a violation of YoWorld's Terms of Service, however Big Viking Games have chosen to let it slide as long as the content being added is appropriate for the game[1] and players won't be using those board editing services for exploits or to abuse other players.[2]
---