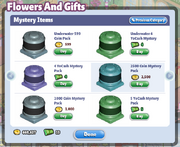 Mystery Boxes were first introduced into the game in March 2009. Although these are technically items, the mystery part of them is a feature. 
When a mystery box is opened, a random item will appear from a list of Common, Uncommon and Secret Rare. The rare items are ones that can only be found in mystery boxes, such as the Leprechaun Statue and Garden Gnome. There are different mystery boxes to choose from, depending on price. The higher value the mystery box, the better items you will receive when you open it. There are:
1000 Coin Mystery Boxes
2500 Coin Mystery Boxes
4 YoCash Mystery Boxes
5 YoCash Mystery Boxes
Other mystery boxes have also been released, such as Christmas 09 boxes, and Underwater mystery boxes.
Prizes have changed over time, although they have not been updated since 2010.
Mystery Boxes can be found at the Gifts & Flowers store.
Community content is available under
CC-BY-SA
unless otherwise noted.