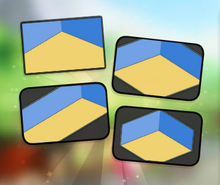 Modular Rooms were first introduced as a new feature for players to purchase at the Realtor Office on December 27, 2018. The purpose of this feature is to provide individual, bare rooms that players can purchase, and attach to any of their homes, in order to make the homes bigger. There are rooms with and without black space. The feature can be used to make homes bigger indefinitely and works in tandem with the Teleport Arrows, available at the YoDepot.
Function
Using the feature is quite similar to using the teleport arrows. Each modular room a user purchases will come with its own pair of teleport arrows. One arrow will already be placed in the room, and the other will be placed in the player's inventory upon purchase. To use the feature, follow the next steps listed below.
Purchase your preferred modular room from the Realtor Office
Travel to the room you'd like to attach this new modular room to
Enter edit mode, and you should find a new placeable teleport arrow in your inventory
Pull out the teleport arrow, and place it wherever in the room you'd like
Hit the "Save" button and the two rooms should then be connected
Available Modular Rooms
Below, a list is available of all currently available modular rooms.
Community content is available under
CC-BY-SA
unless otherwise noted.