| | |
| --- | --- |
| | This page is currently undergoing major updates. During this time, please refrain from editing this page heavily. |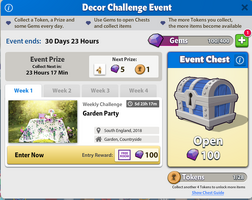 Daily Challenge Events are a themed feature where players get to complete daily challenges in order to gain things like tokens or gems, which they can then exchange for crates filled with prizes.
Various types of challenges currently exist. They include Hang Out Challenges, Costume Challenges, and Decor Challenges. They tend to serve as a supplement to daily login bonuses.
Hang Out Challenges
Hangout Challenges are daily challenges where players are asked to go out to a specific public location on the YoWorld Map, and complete simple tasks like Player Actions or emoji stickers. These types of events serve to inspire player interaction and player cooperation. On some days, players are asked to perform specific actions with other buddies in the same zone as them.
Costume Challenges
With Costume Challenges, players are able to participate in a full month of four 1 week-long costume contests where rating other outfits earn the player gems.