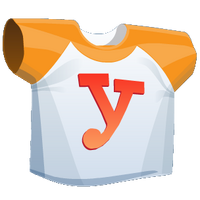 Change Appearance is a feature that has been available in YoWorld from the very beginning. It allows players to update the appearance of their avatar. What players can do to their avatars range in both simplicity and complexity. Changing appearance could be as simple as changing a few clothing articles, to literal body modification.
Through this feature, players have the ability to change their eye color, hairstyles, skin tone, as well as make certain parts of their bodies, such as limbs, invisible. However, in order to unlock many of these options, players need to expand their clothing and appearance inventories beyond what is provided to them at the start of their gameplay experience. This involves spending some YoCoins or YoCash at the Clothing Store and Salon. Players can also shop for new items while they're in the middle of updating their appearance.
Function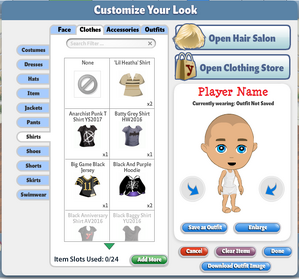 The window is organized as a series of tabs that players can click on to view the items under that category. Main umbrella categories are seen along the top as tabs, while sub-categories are displayed as tabs in a vertical column on the left side. Currently, there are four main overarching umbrella categories, which include "Face", "Clothes", "Accessories", "Outfits".
Under Face, players can change most of the founding cosmetic appearance of their avatar. This includes but is not limited to, eye colors, ear shape, skin tone, mouth appearance, hairstyle and color, even makeup and facial hair, if applicable.
Under Clothes, players can find and select what clothing their avatars wear. From hats to wings, shoes, shirts, and all other sorts of things. Anything that could be recognized as clothing tends to fall under this category. Under this category, is also the "Items" sub-category, where players can find miscellaneous goods like Yobers, wings, tattoos, backgrounds, and special effects for their avatars.
The Accessories section serves as an extension to clothing, where players can find smaller clothing articles. This includes but is not limited to glasses, necklaces, belts, bracelets, and handheld items.
Under Outfits, players can find saved outfits from the past they can select to quickly change appearances. Outfits have to be saved and edited manually, and space is limited. Players can, however, purchase more slots to save more outfits.
Extra Features
Players can save any outfits they like for future use. The outfit stays intact so long as the player does not sell or give away any items the saved outfit uses. Outfits can be deleted and updated.
Players can click on the "Enlarge" button to see a larger, up-close image of their avatar.
Selecting the "Clear Items" button removes all items from the avatar and returns it to a clean slate.
The "Download Outfit Image" option allows players to download a large, clean image of their avatar, which they can share online or onto the YoWorld Forums.
Players can layer various clothing items and features on top of one another to create unique-looking items, effects, and appearances.
Community content is available under
CC-BY-SA
unless otherwise noted.